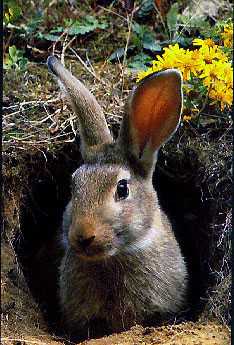 WHY ARE YOU IN THAT STUPID BUNNY SUIT?
In case you forgot,
Donnie Darko - The Directors Cut
is in theaters now. For you New Yorkers, it's playing at the AMC on 42nd Street. I will probably be there when you're there because I can't think of anywhere I'd rather be.
Unless of course, that anywhere else is the Curiosa festival on Saturday. But if you didn't want to spend $60+ seeing the Cure, Interpol, and a band I kinda like called Muse, you can head over to the Village Idiot and have your very last beer there. Hide your sisters/girlfriends/daughters cause my brother will be there in full effect with his friends. If the guy in the wheelchair asks you to sit on his lap -- DON'T DO IT. They're closing down the legendary tavern this weekend. I wasn't allowed in there in the first place. My brother managed to have me banned.
Last night in the wee hours of the night, after my friends and I polished off a bottle of rum in the kitchen of SPIN offices after watching the Fever perform, we headed back to my house, ordered Rush Hour, snorted enough heroin to kill Pete Libertines (i'm kidding of course -- it he would've been fine), and talked about how music, just like friends sometimes, can come to you in phases and mean less to you years down the road.
For instance: In 1993 I was obsessed with the Beatles
Sgt Peppers
and REM. I wanted to be Michael Stipe. I made all my friends sing REM songs in those karaoke booths that you have at Bar Mitzvahs. Sadly, "Shiny Happy People" was the only thing available, and even more sadly, I knew all of Michael Stipes' dance moves from the video. I would even find a baseball cap to wear to the side like he did, and i think that somewhere in my parent's house there exists about 4 different versions of me doing this with my friends. "Baby Got Back" was fun to do as well. Particularly because back then I weighed about 70 lbs and lacked a "back" and didn't understand what "my anaconda dont want nothing if you aint got buns hon."
In 1994 I became obsessed with Nirvana. This obsession lasted about 3 years and intertwined with my obsession with Beck, Hole, and The Smiths (not to mention the crazed obsession I had with my brother's New Wave Hits of the 80s Vol 1-15 collection).
In 1997 I became obsessed with Radiohead and listened to them once a day for nearly three years. I became known around the SPIN offices as the intern with an unnatural obsession with Radiohead. That was followed with obsessions with The Walkmen, Interpol, and Placebo.
All those bands meant more to me than anything in the world. They helped me out with my hardest moments in my life. Heartaches, downfalls, sickness, sadness, those bands were there for me. But then, they'd serve their purpose or something would distract me and I'd have a new obsession (my emo band would be called Her Daily Obsession).
Bands are like friends in that way, for me at least. Some months/years, there's a person who is the closest person to me in my life. If anything happens they're the first person I call. Then that friend might move away to go to college, or pursue a job, or get a boy/girlfriend and I see that friend less and less. It doesn't mean that I love them any less, it just means that my dependency in them isn't so strong. Maybe I'm an emotionally detached person? Anyway, when I listen to REM, Nirvana, and Hole I'm able to appreciate them -- but I don't need them anymore. I'm friendly with them, and if they were actual people instead of songs, I'd want to get brunch with them and catch up on old times and tell them about the new crushes I have and how i'm soooo over John, Orin, Matt, Chris...